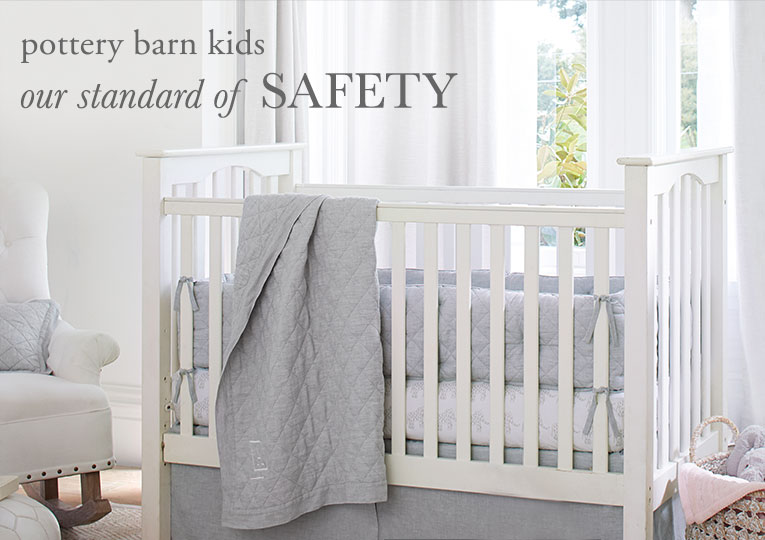 Safety Testing
Expertly crafted from superior quality materials, all Pottery Barn Kids cribs provide lasting style and comfort. All of our cribs are designed and tested to the highest safety standards to comply with U.S. and Canadian Cribs and Cradles regulations. Rigorously tested by independent laboratories, each crib meets or exceeds the current safety standards defined by the ASTM (American Society for Testing and Materials).
Crib Safety Information
The following safety guidelines comply with the Consumer Product Safety Commission's published Crib Safety Tips for infants under 12 months of age. For more crib safety information, please visit www.cpsc.gov.
Crib Mattress & Bedding
The crib mattress should be firm and should fit snug within the crib. Use only a fitted bottom sheet that is specifically made for crib use (Pottery Barn Kids fitted crib sheets have elastic around the tip and bottom, rather than around the entire edge, for added safety), along with a mattress pad and/or a waterproof pad. You might consider having your baby sleep in a SleepSack® rather than using a blanket. Lay your baby down with their feet at the foot of the crib and, if you use a blanket, ensure it is tucked around the sides of the crib mattress and covers your baby only up to the chest. Do not place decorative pillows, quilts, comforters, sheepskins or stuffed animals in the crib while your baby is sleeping, as they may prevent proper air circulation around your baby's face. When your child is able to pull up to a standing position, you should remove the crib bumper.
Crib Mattress Height
At birth, it's safe to set the crib mattress at its highest position to make it easier to place your newborn in the crib. For their safety, the mattress should be lowered from the highest position once your baby is able to sit up. Adjust the mattress to the lowest level once your baby is able to pull up to a standing position to minimize the risk of falling out of the crib.
Crib Placement
Your baby's crib should not be located near or beneath heavy objects, framed pictures, a window or near window shades or cords of any kind.
Crib Mobiles
Position mobiles out of arm's reach of your baby, and remove it as soon as your baby is able to sit up.